Noozhawk and Cap Times prove that for-profits can have strong membership programs
Written by: Katie Hawkins-Gaar
For many nonprofit newsrooms, membership programs are a proven way to diversify their organization's revenue. In fact, more than 90% of the News Revenue Hub's clients are nonprofit organizations. Still, a growing number of Hub clients, including Noozhawk and The Capital Times, are for-profit newsrooms. Like their nonprofit counterparts, they're on a quest to turn readers into loyal supporters. 
So far, they're finding success. At the Cap Times, a digital-first newspaper in Madison, Wisconsin, membership profits currently account for 20% of their revenue. At Noozhawk, a news site based in Santa Barbara, California, 30% of revenue comes from their membership program.
The success is encouraging, said Mary Walter-Brown, founder and CEO of the News Revenue Hub. She hopes to work with more for-profit clients in the years ahead. 
"What we've learned, working with both Noozhawk and Capital Times, is that if a news organization is willing to be transparent with their community about their business model and about the gaps in revenue they're experiencing, the public will be responsive to that," she said.
Bill Macfadyen, founder and publisher of Noozhawk, said working with the Hub has been valuable right from the start. 
"The very first ask in our very first email with them got a return on the investment," he said. "Everything else has been chocolate syrup on a hot fudge sundae."
'We had no idea what we were doing'
Macfadyen clearly states his vision in his Noozhawk bio: "He's on a quest to figure out how to make online local news viable and sustainable." The lifelong Californian publisher, who founded Noozhawk in October 2007, said the news organization "has been modestly profitable since 2009."
Most of Noozhawk's revenue comes from advertising and sponsorships, but reader contributions have been a growing source of income since soon after the site's launch. In 2008, after a handful of readers had asked about giving money to support Noozhawk, Macfadyen and his team created a membership program, which they called "Hawks Club."
"We had no idea what we were doing," Macfadyen admitted. At the time, he tracked one-time member contributions through a Google spreadsheet, and didn't have a way to process credit card payments.
Despite their jury-rigged system, reader contributions grew, and in 2017, Hawks Club brought in $30,000. "We thought that was the most amount of money we would ever see," Macfadyen said. "We were over the moon."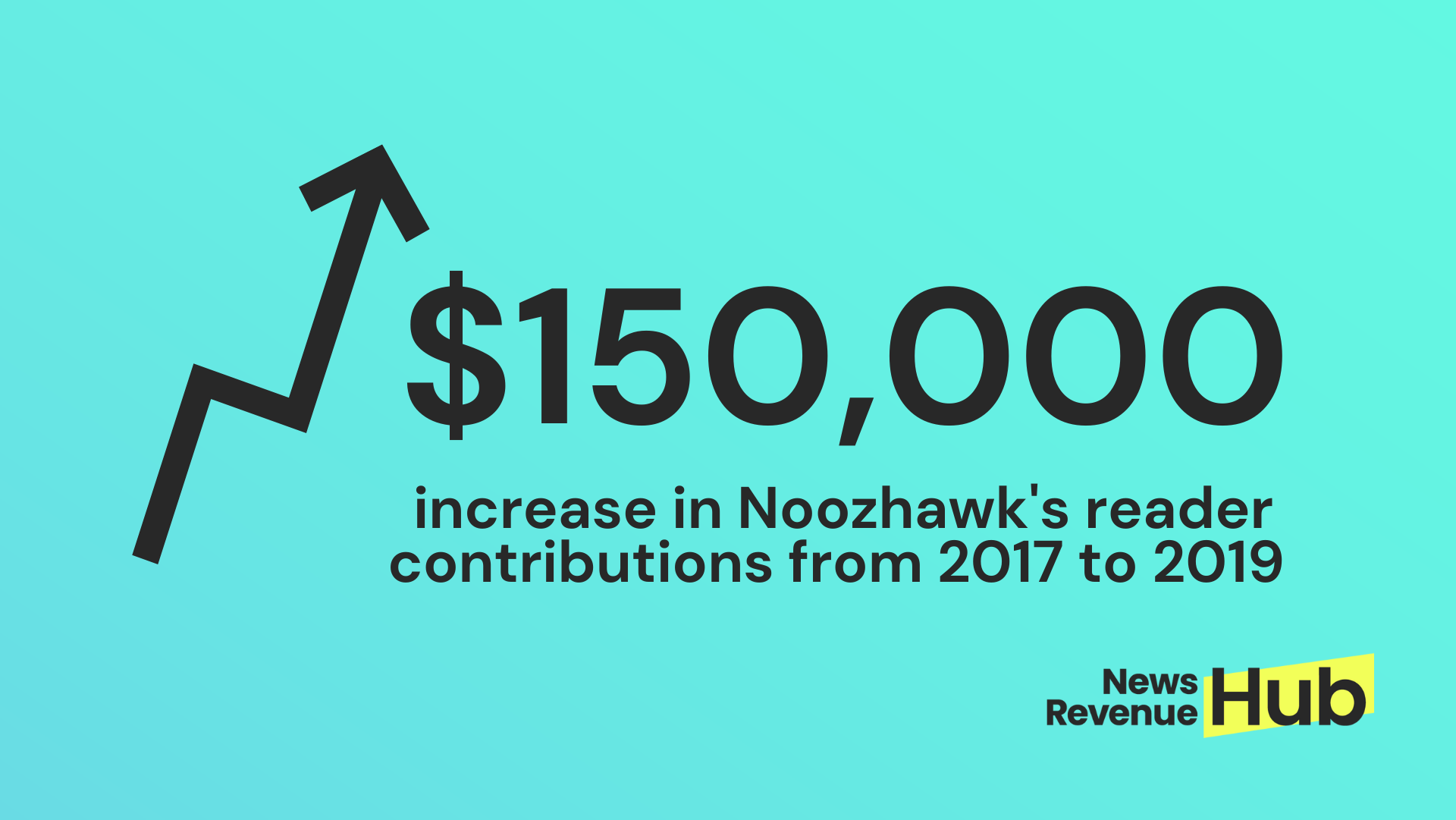 Two years later, Noozhawk joined the Hub. They made $180,000 from reader contributions in 2019. "That blew us away," said Macfadyen. "And it's been climbing steadily ever since."
By working with the Hub, Walter-Brown said, newsroom staff can focus less on time consuming, tedious tasks like tracking donations and instead focus on messaging and building relationships with the community.
"When newsrooms start dedicating more time to listening and communicating with their audiences, and less time on manual tasks, that's when you start to see a real shift in how quickly readers are willing to contribute," she said.
'We've come a long way'
The Cap Times' business model is a complicated one. The newsroom is owned by stockholders of The Capital Times Co., a locally owned company, and its business functions are managed by Madison Newspapers, which is jointly owned by The Capital Times Co. and Lee Enterprises, a national media company.
Still, the Cap Times has the same financial challenges as many legacy newsrooms: over the past decade, they've struggled with steep drops in advertising revenue and newspaper subscriptions.
In March 2019, they launched their own voluntary contribution program. Like Noozhawk, their membership backend was somewhat haphazard. "We had PayPal that was welded onto our CMS and there was a lot of downloading of spreadsheets and putting things here and there," Chris Murphy, Cap Times' managing editor, remembered.
"Over time, that [reader] revenue stream can be even more robust and serve as a galvanizing force for the community."

Mary Walter-Brown, News Revenue Hub Founder and CEO
Five months later, in August 2019, Cap Times became a Hub client. With access to the Hub's tech stack, including fast checkout pages, centralized data management, benchmarking, and other tools, plus access to the Hub's expertise and guidance, their ability to raise reader revenue increased dramatically.
"We've come a long way from our homespun version," said Murphy. "The Hub has helped us a whole lot to ramp up our membership program to where it is today."
Cap Times has worked on growing loyalty among members, and now 71% are recurring members.
"I hope the Cap Times can be an inspiration to other for-profit newsrooms that are considering taking down their paywalls and shifting to a volunteer contribution program," said Walter-Brown. "Over time, that revenue stream can be even more robust and serve as a galvanizing force for the community."
Transparency is key
Both Macfadyen and Murphy know that the key to a successful membership program is making the case to readers to support your work. And part of making that case includes explaining why reader support is so vital.
This can be somewhat convoluted when you're a for-profit, said Murphy. The Capital Times Co. gets money from several different sources, including revenue from The Wisconsin State Journal. "Our messaging can be complicated," he said.
Murphy and the Cap Times staff offer swag and other benefits to entice readers to become members. After working with the Hub, though, they realized that they could craft simpler, more direct messaging to their audience.
"The folks at the Hub told us what you're selling is local journalism in the community," Murphy said. "And over the past three years, we've really found that that's the strongest sales message."
In order for for-profit news organizations to create successful membership programs, they have to be willing to be transparent about their finances and business model, Walter-Brown said. 
"I think that the skepticism around funding for-profit journalism is that somehow these donations are going to go in the pockets of shareholders," she explained. "You have to be really prepared to explain to the community that that money is going to be reinvested right back into the newsroom — into the reporting — and you have to be able to demonstrate that constantly."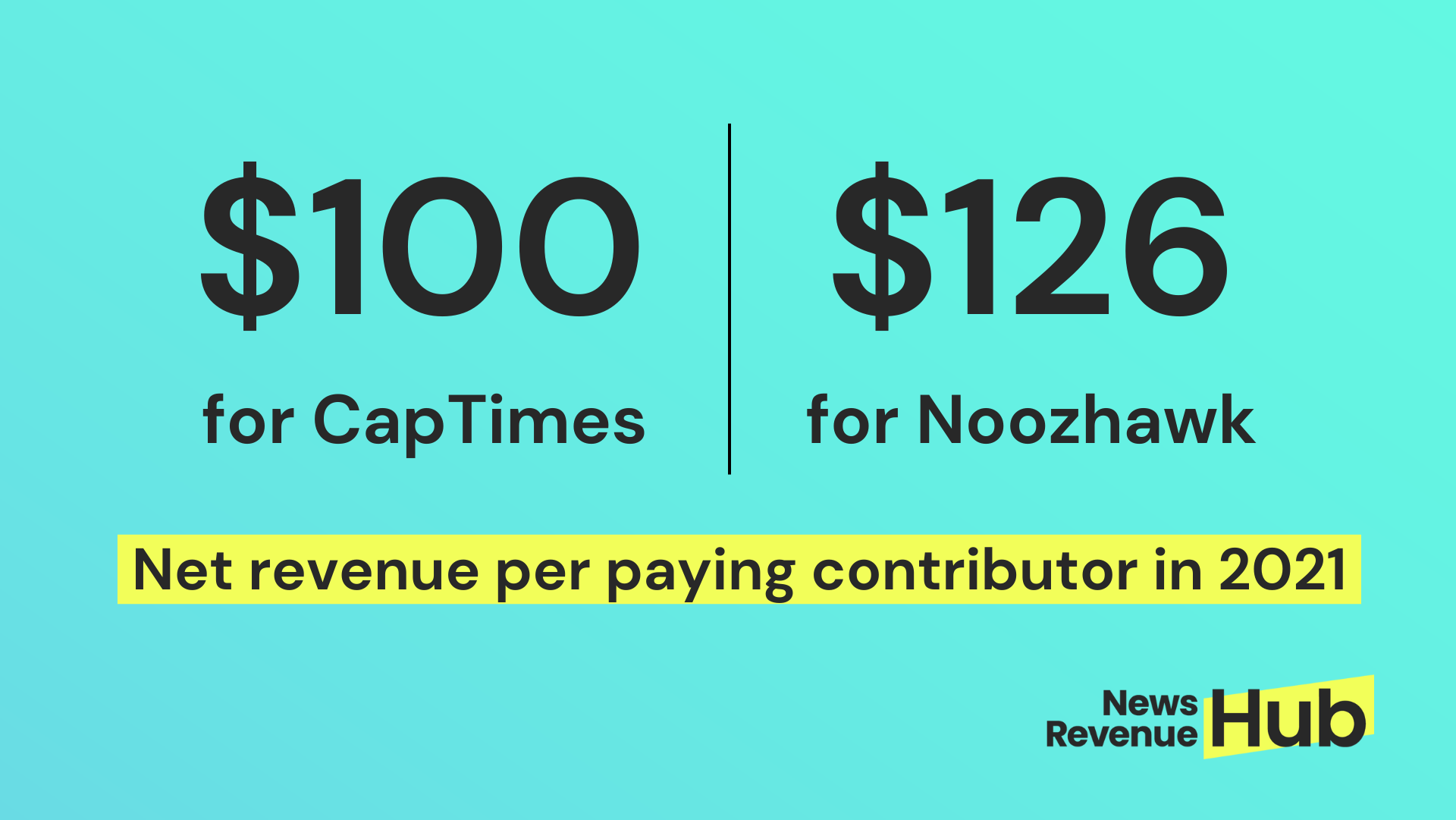 For Noozhawk and Cap Times, newsletters are their main method of convincing readers to contribute. The Hub has helped both newsrooms optimize their products — work that is paying off. Just over 8% of Cap Times' newsletter subscribers are paying members, and Noozhawk is converting 10% of their newsletter readership. In 2021, the net revenue per paying contributor for Noozhawk was $126. For Cap Times, it was $100.
The Hub helps both organizations work on fundraising appeals, whether in monthly emails or standalone fundraising campaigns, It's something Macfadyen greatly appreciates. "I'm a journalist. Not a fundraiser," he said. "So having the Hub provide some fundraising examples and direction is big for us. Then it's easy for us to modify something once the bones are already there."
"I think some of the for-profit newsrooms we've worked with have had some trepidation about using traditional nonprofit messaging because they're not a nonprofit," Walter-Brown said. "They're proud for-profit businesses in their community."
That's why the Hub works with clients "to authentically create messaging that feels right to them," she continued. "We know that the cookie-cutter approach to campaign copy isn't going to work for a lot of these for-profits. They have to feel comfortable with the language and we're eager to work with them to craft something genuine."
In the end, it's about community
Walter-Brown said that one of the main things she's learned from working with small, independent, for-profit newsrooms like Noozhawk and Cap Times is that the distinction between for-profit and nonprofit is a matter of tax status.
"What's most important is how you relate to your community and how you communicate your value," she said. "Both of these newsrooms have become trusted sources of news and information in their communities through some very difficult times. That forges a powerful bond with their readers."
While both Noozhawk and Cap Times hope to grow their membership programs over time, they're happy with the number of readers who continue to offer support, year after year. The Cap Times has an impressive rate of 71% recurring members, while 65% of Hawk's Club supporters are recurring members.
Walter-Brown also hopes to grow the number of for-profit clients who work with the Hub. 
"We would 100% love to work with more for-profit newsrooms," she said. "We are agnostic about whether an organization is for-profit or nonprofit. What we're passionate about is working with newsrooms that have committed to keeping their content open, free and accessible to everyone in their community and we want to help them build reader revenue programs that allow for that."
Inspired and informed in part by the successes of Noozhawk and Cap Times, the Hub recently launched News Revenue Engine, a completely free contribution management system. Newsrooms (whether for-profit or non-profit) can sign up here and start taking contributions the same day.