Hub, Report for America partnership helps dozens of local newsrooms raise funds for the first time
Written by: Katie Hawkins-Gaar
In 2017, Steve Waldman, Mary Walter-Brown and Tristan Loper sat down for lunch to explore ways to work together. It was early days for the nonprofit founders: Waldman was getting Report for America off the ground; Walter-Brown and Loper co-founded the News Revenue Hub the year prior. 
At the time, Report for America, or RFA, was a new national service program with a goal to place emerging journalists into local newsrooms to report on under-covered issues and communities. The Hub was an up-and-coming service organization with a goal of connecting mission-driven newsrooms to best-in-class fundraising, marketing, audience development tools, and expertise — to help them get sustainable.

RFA set up a system in which it pays for about half the salary of the journalist, and the local newsroom covers the other half. The local newsroom can pay their half out of pocket, or they can fundraise for it.
That's where the News Revenue Hub came in. As a Hub member, Report for America gained access to the Hub's donation management platform and fundraising campaign materials, which RFA can then offer to their partner newsrooms.
"Mary and I were getting to know Steve Waldman when Report for America was just getting started," Loper recalled. Ultimately, the trio agreed on a "rising tide lifts all boats" approach. 
"We talked about ways to raise money for a bunch of different newsrooms at once, and landed on a system where, by running crowdfunding campaigns across the nation, we could help build a constituency for Report For America, this new organization," Loper explained.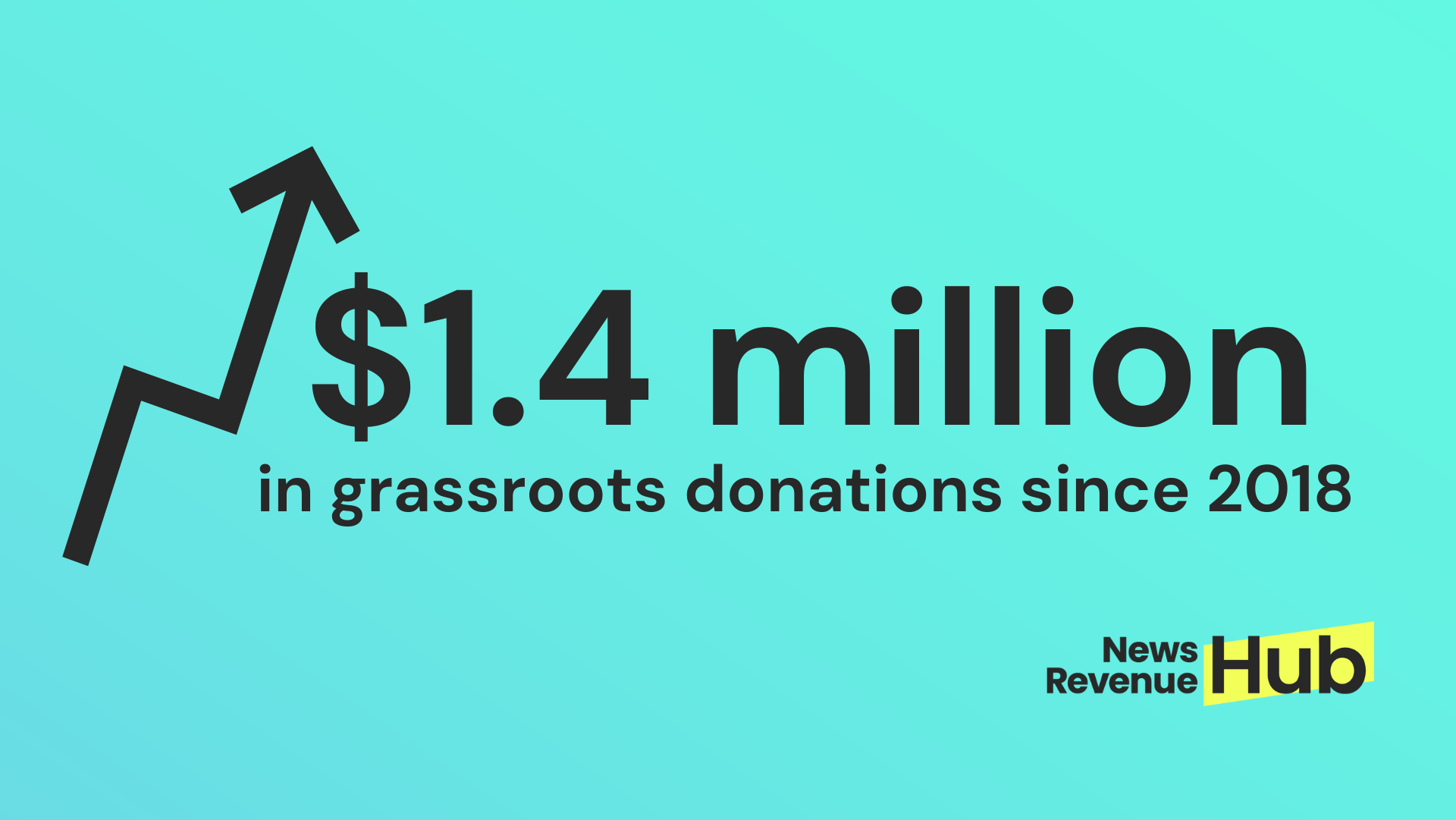 Teaching newsrooms how to diversify funding streams is a goal that News Revenue Hub and Report for America share. With access to the Hub's tools, local newsrooms are equipped to ask donors to help support the other half of RFA corps member's salaries.
"We believe philanthropy is going to be a really critical part of the revenue picture going forward," explained Lauren McKown, senior vice president of development at The GroundTruth Project, which oversees Report for America. "We think every newsroom should be thinking about fundraising and engaging in it."
Since Report for America and News Revenue Hub began working together in 2018, they've helped nearly 100 partner newsrooms raise more than $1.4 million in grassroots donations. For many of these newsrooms, it was their first time asking readers for money.
"We're helping many news organizations test out a volunteer donor program that could potentially introduce a new revenue stream — at a time when new revenue is increasingly hard to find. Many of them haven't tried anything like this before."

Mary Walter-Brown, News Revenue Hub Founder and CEO
Grassroots giving at The GroundTruth Project has grown tremendously, too. The number of individual donors giving under $10K has increased from 49 in 2017, when Report for America was founded, to more than 1,200 in 2021.
"I'm a huge fan of the work Report for America is doing — to place reporters into local newsrooms to report on under-covered issues," said Walter-Brown, CEO of the News Revenue Hub.
"I'm also really proud that News Revenue Hub is playing a role through our partnership," she continued. "We're helping many news organizations test out a volunteer donor program that could potentially introduce a new revenue stream — at a time when new revenue is increasingly hard to find. Many of them haven't tried anything like this before."
A new way of thinking
As Report for America's director of local sustainability and development, Todd Franko coaches partner newsrooms through the process of asking organizations and individuals for money.
"We suggest that all of our newsrooms fundraise part of their local costs of the RFA corps member," Franko explained. "And my job is to help facilitate that new way of thinking."
Today, Report for America has 217 partner newsrooms: half for-profit organizations and half nonprofit. Most of the for-profit newsrooms are new to fundraising.
"The for-profits are generally the ones that need a little more coaching and prompting," Franko said. "We're kind of their first introduction to this idea [of fundraising]."
The Hub staff views their relationship with Report for America as a great way to introduce more newsrooms to the idea of developing new revenue streams. "Every time we're reaching a newsroom constituency that we haven't reached before, it's a positive for the whole ecosystem," said Loper, chief operating officer of News Revenue Hub.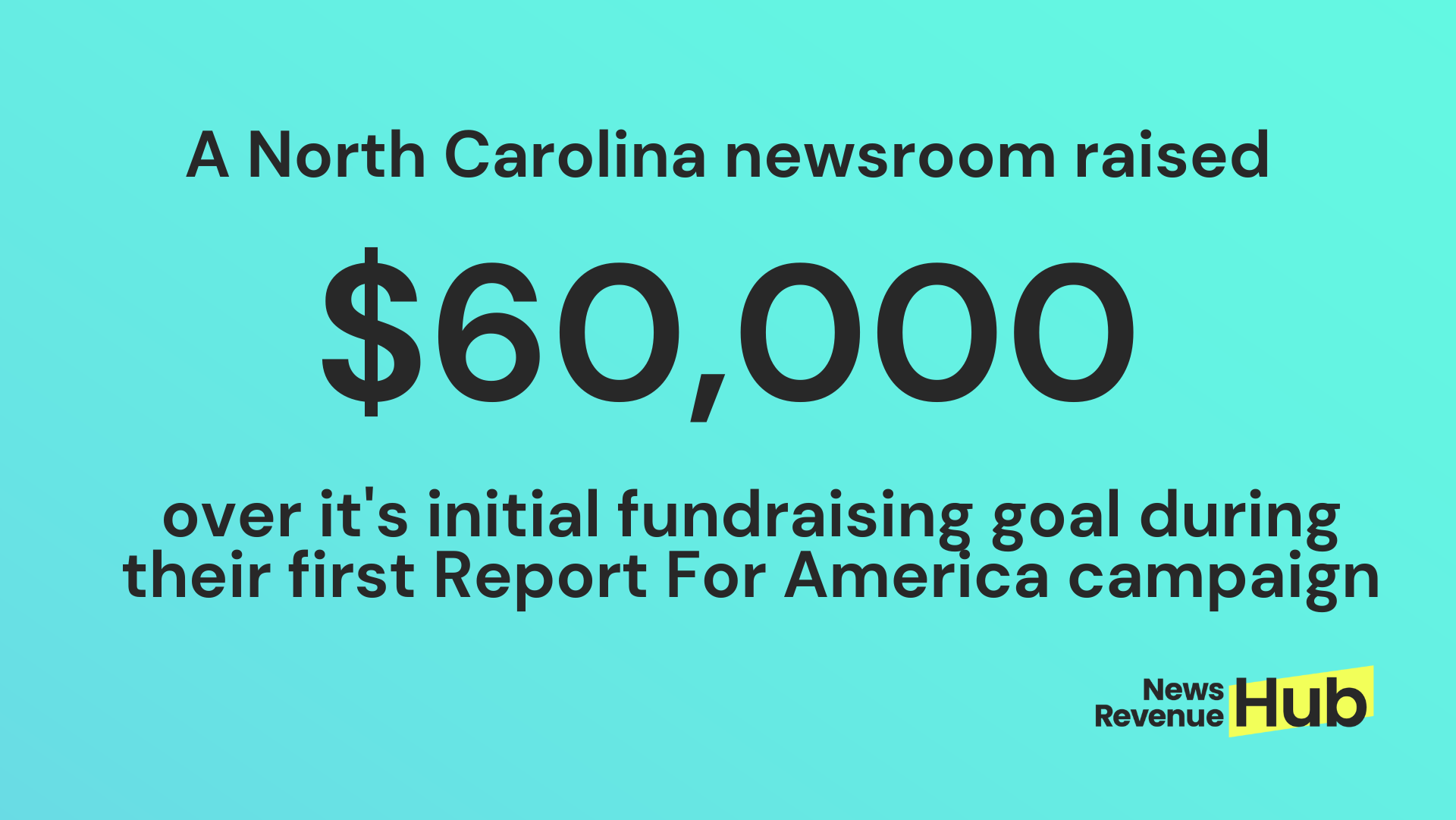 Among the partner newsrooms, fundraising efforts have been mixed, but Franko says he's encouraged by some of the standout successes. In particular, he pointed to a North Carolina newsroom, which raised more than $72,000 in six weeks during their first RFA campaign in 2020. Their initial fundraising goal was $12,000.
"The donations were non-stop," Franko recalled. "They kept hitting their community with [fundraising] updates. They were diligent and disciplined."
Now, Franko is interested in exploring why some communities are more apt to donate to local newsrooms than others. "We know a lot about what words to put in an email, what kind of typeface to use, what the frequency should be," he said. "What we don't know is what has to exist in the community to make readers as receptive [to giving] as some of the communities we've seen."
"We don't have that figured out just yet," Franko said. It's a piece of the fundraising puzzle that RFA and the Hub are hoping to solve.
What motivates donors
Just like figuring out what motivates some communities to support local journalism more than others, the Report for America staff pays close attention to why people donate to their local newsrooms. Earlier this year, RFA issued a report about community news funds, including a case study of what motivates donors to contribute to local newsrooms.
In the study, Report for America placed donors into two categories: mission-driven donors, who are motivated by their local newsroom's mission, and connection-based donors, who give to their local newsroom because of a connection with a topic, reporter, or location.
Another big takeaway — and the one that stood out most to McKown — was that people gave money simply because they became aware of the newsroom's financial need. 
"Donors will very often say, 'You asked me to give so I gave,'" McKown said. "As a fundraiser, that's the single most important thing you need: the confidence to ask and ask again, to tell the story of why donations are needed and why this work is so important."
When people make contributions through the Hub's donation system, they're given the option to leave a message about their donation. Those messages are funneled into the Hub's Slack channels and logged in Salesforce. McKown and Franko say they're invaluable.
"The more we can learn about why folks are giving, the better," McKown said. "We can tailor our strategy going forward to understand where we might find more donors like them — to see why folks are giving and why they're not giving."
Franko believes the messages from donors are "probably the coolest thing to see." He explained that, with about "every third or fourth donation," someone leaves a message.
"When you see those messages, it just becomes clear that this is worth the fight, this is worth the scrap, this is worth the extra hours," Franko shared.
GroundTruth has a Slack channel dedicated to broadcasting donors' messages that come in through the Hub's platform in real time. McKown keeps a close eye on it — especially when she's having a less-than-great day.
"It's my favorite Slack channel. Anytime I'm having a rough day, that is my go-to. I'll see that this person gave $10 in Iowa and left this amazing comment, and I automatically feel better."

Lauren McKown, The GroundTruth Project's Senior Vice President of Development
"It's my favorite Slack channel. Anytime I'm having a rough day, that is my go-to," McKown said. "I'll see that this person gave $10 in Iowa and left this amazing comment, and I automatically feel better."
McKown said the messages remind her that "we're building this community of thousands and thousands of donors who are giving to make this all possible."
From local to national
As a tax-exempt organization, Report for America offers all of its local newsroom partners free fiscal sponsorship.
"The newsrooms that take most advantage of that are the for-profits," McKown explained. When donors make a gift to a local newsroom that's fiscally sponsored by Report for America, that money goes through RFA's donor management system, which is powered by the Hub.
"By being members of the News Revenue Hub, we are essentially offering partners access to the tech platform, which then connects back to our Salesforce database," McKown explained. Report for America shares that donor information with local newsrooms, while also having an opportunity to steward those individuals themselves.
Last year, grassroots donors accounted for more than 2% of GroundTruth's overall funding, raising a total of $276,028 for the nonprofit organization. This year, they're tracking at 2.3%, a number McKown hopes to continue to grow.
"One exciting thing we've learned is that the folks who give both locally and nationally often prove to be even more engaged," McKown said. "They're getting all of that good donor communication from multiple angles."
Loper sees this as a win-win. "It means that people feel good about donating to their local newsroom and supporting it, but it also means that they're enlisted in the greater cause of supporting journalism across the country," he said.
McKown, who comes from a traditional philanthropy background, notes that the concept of supporting journalism as a cause is new for many people. "A lot of local donors don't think of themselves as journalism donors," she explained. 
Report for America wants to change that.
"We encourage folks to give to their local newsroom, give to Report for America, give to INN, give to LION," McKown said, laughing, as she rattled off a list of journalism organizations. "There's a real opportunity to support this whole ecosystem."
Walter-Brown hopes that Report for America's financial success becomes a story that's more widely told. 
"It's not just about putting one reporter in a community," she said. "It's also the fact that dozens and dozens of newsrooms are, for the very first time, going directly to their community to support a local reporting. It unlocks so much potential."