'We were blown away': How Grist revolutionized their member strategy by working with News Revenue Hub
Written by: Katie Hawkins-Gaar
Grist is a nonprofit media organization dedicated to telling stories about climate solutions. Their goal is to convince and inspire audiences that a just and sustainable future is within reach—and that the time for climate action is now. In order to achieve that goal, Grist wants to reach as many people as possible.
That's why they joined the News Revenue Hub. Grist was looking for help with their audience and membership strategy, and ultimately to increase their annual revenue.
"We already felt like we had a strong membership foundation, but we lacked the capacity and bandwidth to achieve what we wanted to," said Jess Alvarado-Lepine, Grist's director of membership. "Working with the Hub catapulted us to the next level."
After a year of working with News Revenue Hub, Grist saw an 88.3% increase in monthly donors and 47.9% increase in monthly donation revenue. In 2022, Grist anticipates $140,000 in monthly revenue: a 57% increase from the previous year.
Alvarado-Lepine can't help but laugh when sharing such dramatic statistics. "I think it's fair to say that all of us were blown away by the numbers," she said.
A year of hands-on training
In October 2020, the Hub began a year-long premium consulting partnership with Grist. The work began with a thorough review of where Grist stood in terms of membership and audience, including an audit of newsletters, examination of the organization's current goals, and survey of readers.
"The Hub understands not to overwhelm you from the start," said Alvarado-Lepine. "Instead of coming in right away with ideas and changes, they take time to listen and learn. From there, they come up with a plan."
Evan Mackinder, the Hub's vice president of newsroom consulting, explained that this initial research phase is crucial to setting the right goals and strategies. In particular, examining Grist's internal goals helped the Hub to identify a major revenue opportunity.
"They had this North Star goal of number of donors, rather than a dollar amount, which can have negative long-term effects," Mackinder explained. In order to gain more donors, Grist was relying heavily on paid advertising on sites like Facebook. Although they had a relatively high number of individual donors—people contributing $5 or $10—they weren't finding success in renewing donations.
"What ends up happening is those donors don't renew after a year and they're only giving very small amounts," Mackinder explained. "Rather than orienting their membership program around bringing folks in from the site organically and really going after recurring donors, they were relying a lot on the paid acquisition strategy just to bring donors in the door. It was a short-term approach."
The Hub suggested a more sustainable, long-term approach: adjusting Grist's North Star from the number of donors to monthly donor revenue. It was a big shift—one that took some convincing and a change in Grist's workflow—but it paid off.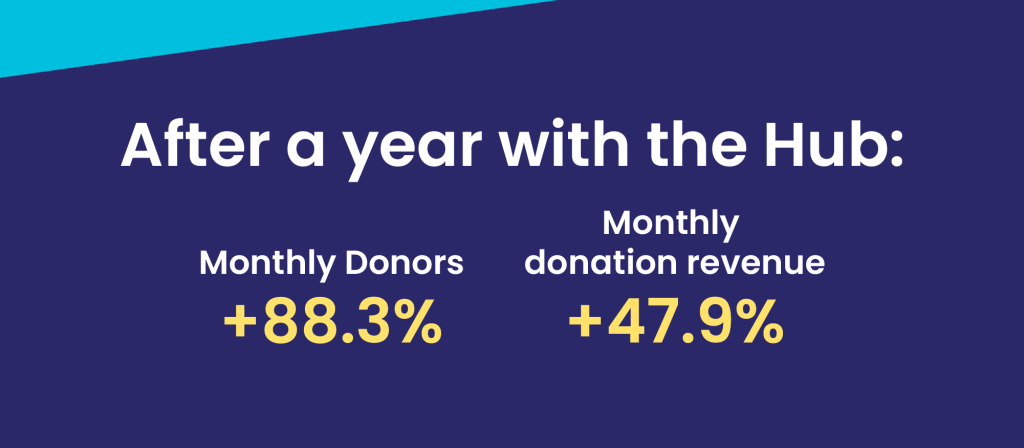 "The Hub really pushed us to try a monthly donor strategy, even though we were nervous about losing one-time donors," Alvarado-Lepine said. With the Hub's guidance, the Grist team first experimented with pop-ups on their site. Instead of using pop-ups to ask readers to sign up for newsletters, they invited readers to become monthly donors. The Hub also made monthly memberships the default on Grist's membership page, rather than one-time donations.
Both tactics were immediately successful. "When we started testing with new users, we were amazed by how many people were willing to become monthly donors," Alvarado-Lepine said.
"The Hub's approach is all about long-term sustainability," added Mackinder. "Recurring donors are more reliable. They're more engaged. You know that recurring donation is something that you can count on month after month or year after year."
A better benchmark for fundraising
Working with Grist was equally beneficial for News Revenue Hub. As the Hub honed Grist's donor approach, Grist challenged the Hub to level up its consulting services.
"Grist is a bigger than many of the newsrooms we work with. They have more resources, more brain power," explained Mackinder. "So they put pressure on us to step up our approach."
Together, they piloted two new services that the Hub now offers clients, including a growth calculator that projects how much revenue news organizations can expect to receive in a year. They also developed a goal-setting workshop that, according to Mackinder, "helps organizations aim higher and shows them what's really possible."
Alvarado-Lepine said that it was exciting to pitch an idea like the calculator and see it come to fruition. "It was a mutually beneficial relationship," she added. "We were able to elevate the Hub's strategies and they were able to help us align our internal goals."
During their year together, the Hub and Grist met weekly to check in on progress. Alvarado-Lepine said the weekly meetings, patterned after the Agile sprint framework, helped them to stay accountable. "We'd implement a change, see what we're stuck on, and adjust as needed," she said. "It really helped us to make things happen."
"Thanks to our work with the Hub, we've got exactly the structure and support we need to continue on our own and feel confident about what's ahead."

Jess Alvarado-Lepine, Grist's Director of Membership
Perhaps Alvarado-Lepine's favorite thing about working with the Hub, though, is joining the community of 70 member newsrooms. "There's so much expertise and everyone is so helpful," she said. "Being part of the Hub community is a huge value point."
A solid foundation for the future
Thanks to the new monthly donor strategy, Grist ended 2021 with their best revenue period ever, raising $135,000 between October and December. And in another sign of how successful the partnership was, Grist decided not to renew its premium partnership with the Hub, opting instead for a lower level of support.
"Thanks to our work with the Hub, we've got exactly the structure and support we need to continue on our own and feel confident about what's ahead," Alvarado-Lepine said.
Mackinder said this is exactly what the Hub hopes for. "Ideally, there are only one or two years where we're really super involved with an organization," he said. "Our goal is to hardwire some of these best practices so they can take them and go forth and conquer on their own."
Alvarado-Lepine feels optimistic about Grist's future. The nonprofit is planning to continue their monthly donor approach, employ constant fundraising campaigns, and keep testing out different ways to bring in new readers. Grist is also participating in the Meta Journalism Project Accelerator Program this year.
"This feels like a major moment for Grist," said Alvarado-Lepine. "People care about climate change and we now have a plan in place to take advantage of this moment."