'A full-funnel approach': How Mississippi Today's welfare scandal investigation led to record donations
Written by: Katie Hawkins-Gaar
In March 2022, Mississippi Today's audience development director Lauchlin Fields sat down with her colleagues, reporter Anna Wolfe and editor Adam Ganucheau. Wolfe's investigative series, which revealed former Mississippi Governor Phil Bryant's role in a sprawling welfare scandal, was scheduled to publish in a few weeks. Fields and her team were already preparing to make the most of it.
Wolfe's series, "The Backchannel," was published in five parts, between April 3-18, 2022. Each part of the series examined Bryant's misuse of at least $77 million in federal funds meant to assist the state's poorest residents.
The Mississippi Today staff knew this would be a big story — Wolfe uncovered dramatic, never-before-seen texts between Bryant and notable names like football legend Brett Favre — so they planned what Fields called "a full-funnel approach," aimed at converting casual visitors to loyal readers and, eventually, paying members.
That preparation paid off. In April 2022, Mississippi Today raised $11,500 more than they did in April 2021. The following month, after running a campaign highlighting the coverage and receiving national media attention, the nonprofit news organization raised $18,960 more than in May 2021.
Here's how they did it.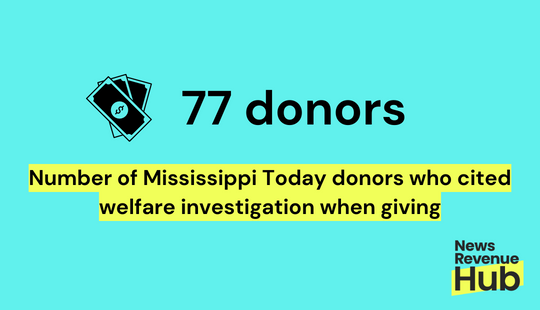 'How can we elevate your work?'
Fields met with Wolfe and her editor to hear their publishing schedule and ideas for The Backchannel. "That gave us an opportunity to get ahead of it," Fields explained. "It gave my team some time to plan and think about what we are going to do once people get to these stories."
That plan included optimizing Backchannel stories for search and social media; preparing social language and graphics; launching a special newsletter to alert readers when a new welfare-scandal story was published; creating web push alerts for new stories; and creating a topic-specific survey for readers.
Although the bulk of this work was done ahead of the series' launch, Fields also planned for the future; the special newsletter and push alerts, for example, would keep readers returning well after The Backchannel's initial publication. 
"We launched the series in April, but this is ongoing," Fields said. "Anna could write a story tomorrow that's related to this. We wanted to make sure our approach had some lasting power."
Abbey Gingras, director of consulting services at the News Revenue Hub, said she admires Fields' openness to newsroom collaboration. "She's so great at understanding that all of this work feeds into each other," Gingras said.
Mississippi Today joined the News Revenue Hub as a client in 2018 and as part of their work together, the Hub has helped Mississippi Today optimize their site to bring in more donations and newsletter sign ups — work that helped create a strong foundation for The Backchannel's success.
"Lauchlin fully grasps how everything is connected and she works really hard to bring that connection into the newsroom," Gingras continued. "She helps everyone understand how their roles are related to each other."
Fields said her favorite part of planning for The Backchannel's launch was getting to brainstorm with Wolfe, the reporter behind the series. "We had great conversations," Fields recalled. "I was able to ask her, 'How can we elevate the work you're doing and have you connect more with readers?'"
Making a direct connection
Wolfe interacted with readers in a variety of ways — by tweeting about her series, responding to comments, and sending emails asking for financial support. 
On August 5, Wolfe answered questions about her welfare scandal reporting for a Reddit Ask Me Anything, or AMA, event. She received scores of comments and questions from Reddit users, including one who wrote, "I don't have any questions, but just wanted to thank you for the incredible work that you do. Your work on the welfare scandal encouraged me to become a monthly donor to Mississippi Today because I believe it's important to support local, investigative journalism."
"I love that they did a Reddit AMA — from an audience-building and fundraising perspective," said Gingras. "The Backchannel was a big story. It had the attention of people in Mississippi, but it also had national attention. Reddit helped them not only reach people locally, but also a wider audience." 
Wolfe and her colleagues were also able to share tangible information about how much work went into her investigative series. Wolfe tweeted that she'd filed at least 140 public records requests, totaling thousands of dollars; and well before The Backchannel was published, Mississippi Today CEO Mary Margaret White shared with readers that Wolfe had been covering the welfare scandal story for more than two years.
Mississippi Today's audience development team used those tangible details in calls-to-action across their site and on various platforms. "Readers don't really realize what that work looks like," Fields explained. "We felt like it was important for people to understand all the work that went into this series." 
It worked. In 2022, more than 75 Mississippi Today reader donations included notes that referenced The Backchannel. Of those donations, 64 referenced Wolfe by name, 10 referenced the welfare case, and three mentioned Brett Favre. In total, donations that mentioned the project brought in $7,555.
In addition, The Backchannel special newsletter raised $4,164 in reader donations. The Backchannel was also prominently featured in multiple Mississippi Today fundraising campaigns, including their Spring Campaign (emails either from Wolfe or mentioning the series brought in $5,260); 6th Anniversary Campaign ($1,490); Fall Campaign ($540); and end-of-year NewsMatch Campaign ($4,190).
"The proof is there in the depth of work and the amount of time that they have been following these stories," said Gingras, referencing not only The Backchannel, but Mississippi Today's ongoing coverage of issues like the Jackson water crisis. "So when it's time to fundraise, they can offer specifics, like, 'We've published more than 50 stories on this topic over the course of 10 months and we had this impact — all because of our coverage.'"
"It's been a win for all of us because it's allowed us to continue to do this type of work and it's brought in more people who are now aware of the kind of work that we do."

Lauchlin Fields, Mississippi Today Audience Development Director
A newsroom-wide win
While so much of the work that went into The Backchannel, plus the money that was raised, is measurable, there's an intangible benefit, too: The success of the series, and the way everyone in the newsroom was involved, boosted morale. 
Fields said that The Backchannel has brought the kind of attention to Mississippi Today "that we've always wanted."
"It's been a win for all of us because it's allowed us to continue to do this type of work and it's brought in more people who are now aware of the kind of work that we do," she continued.
One of Fields' responsibilities is putting together monthly metrics reports. In those reports, she always includes comments from readers sharing why they donated.
"That's a huge morale booster for reporters and editors," Gingras said. "They can see that their journalism is having such an impact that someone wants to invest in it with their money."